In aerial combat, dogfights are the most adrenaline filled challenge. Contrary to some past predictions, dogfighting remains an essential part of air supremacy even in today's modern wars. Therefore we have focused on creating a better dogfighting experience for the tumultuous future in which the action in Tom Clancy's H.A.W.X 2 takes place.
Several areas of the game that are key to dogfights have been revamped. As we have already announced, there is no minimum flying speed anymore so the player can make really tight turns, even in assistance-on mode. Master drifting and flying on the edge of stalling and you will stay right on your enemy's tail. There's a flipside however: flying slow means you won't be able to dodge the missiles and you'll also be more vulnerable to cannon fire from enemies. You'll have to be careful when you perform such maneuvers and anticipate the moves of all the enemies around you.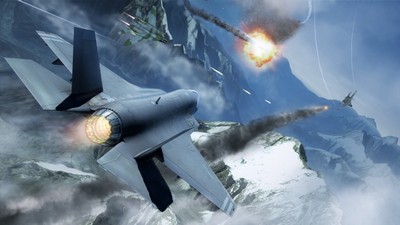 Another gameplay enhancement that adds to improved dogfights is the improvement of the AI. The smarter enemies will provide a better and more enjoyable challenge. You will really feel the burn when you and your enemies are flying in circles around one another, trying to find a firing position. And you will really be surprised by the risks they dare to take to outmaneuver you and take you down. What are your expectations of dogfighting in H.A.W.X 2? Post your thoughts on the forums!