H.A.W.X. 2 has new and powerful weapons for you to obliterate the enemies. Besides the missiles, rockets and bullets you'll get to launch during the dogfights, you'll get control of the heavy weapons in the aerial support gunship.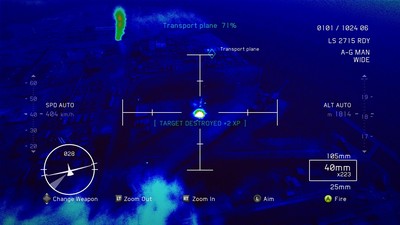 You will be the one operating the devastating arsenal on the AC-130U Spooky planes. These behemoths fly slow and steady so you can properly aim the big guns. You'll have a 25mm cannon to spray high explosive incendiary shells at the ground and air troops. One well aimed sweep can take out a whole convoy or helicopter squadron. For tougher enemies, you will use the 40mm rounds. Their explosion can destroy 2 or 3 vehicles or small infantry groups. And then there are the slow moving and reloading 105mm shells with their impressive blast radius that can annihilate an entire enemy's position. Heavy duty jobs only!
Do you see yourself as a good support gunner? Tell us on our forum!